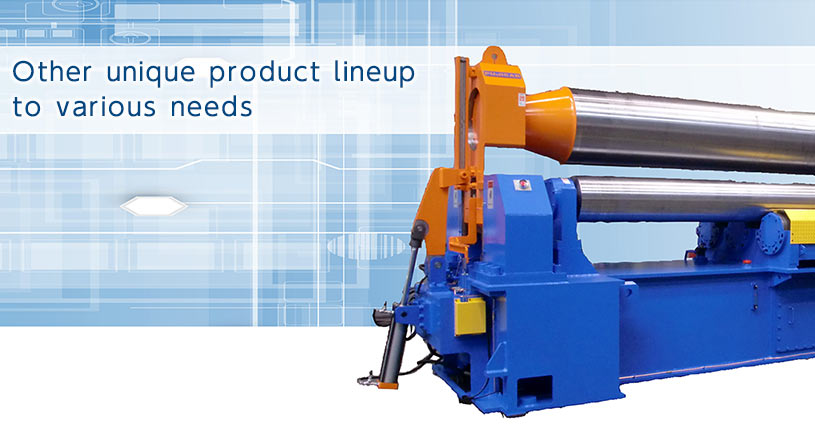 In addition to environment related products and vehicles,
distinctive industrial machines have been available for many years.
Garbage transfer facility

Due to expanding the garbage collecting area, enhancement the transport efficiency is required. Based on our experiences, we can propose the suitable system.

Container compactor type

This system is suitable for 50ton/day or more of garbage capacity. It can compress the general waste collected by garbage collecting vehicle , then the waste is transfered to large-size containers .
Rotary drum type

This system is suitable for 10ton/day or less of garbage capacity. It can store the general waste collected by garbage collecting vehicle , then the waste is transfered to large-size garbage collecting vehicle .
Crushing drying system

Crushing and drying simultaneously. Industry's first new technology.

Using hot air, the material is dried in a moment. At the same time, fine grinding by high-speed rotation air flow is performed. From food industry to industrial waste treatment field, we can offer various system.

■Crushing materials

Food waste (sake lees, coffee grounds, tea leaf, tofu refuse, fruits, vegetables, beans, etc), waste wood, sawdust, resin, circuit board, etc.
CDQ(Coke Dry Quenching) carriage (with turning device)

Our CDQ carriage equipped with cylindrical bucket and turning device is helpful to improve volume efficiency and heat recovery efficiency of the cokes in iron works.

In addition, we are preparing various carriages for the use of iron works.
Three-rollers bending machine

This is all-in one type roll bending machine in which end bending and bending over are also available. Featuring simple structure and improved strength and rigidity, the bending in a high accuracy is implemented. So our machines are used by many ironworks and manufacturing factories.
Ship bender

Curved bend on hull outer sheet, half circle bend for piller-shaped product and V-bending for long steel sheet are appropriate on this bending machine. Fujicar Manufacturing has been accumulating various experiences along with the development in shipbuilding industry. And our products have been used for many years in this field.
Kansai-Meijin Jr. (Wasted LPG canister, aerosol can processing unit)

Combustible gas occurred by crushing wasted canisters and cans is processed safety by using nitrogen gas. The explosion accidents can be prevented by enclosing the inert gas. From food Industry to waste industry, we can propose for various purposes.

Copyright © 2016 Fuji Car Manufacturing Co., Ltd. All Rights Reserved.