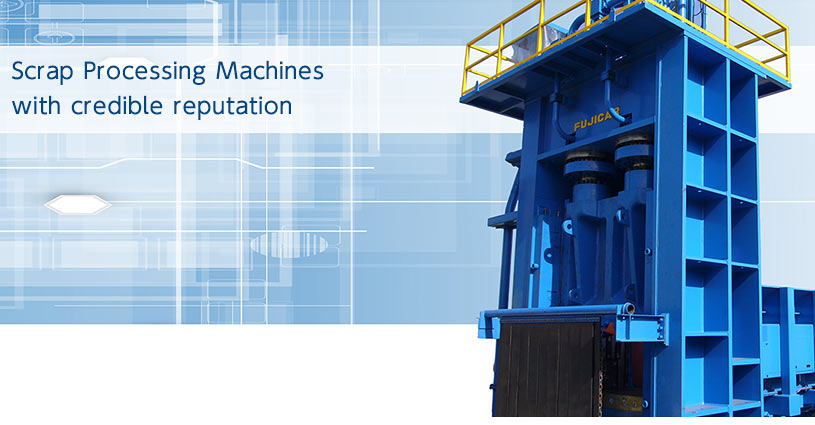 In the field of Scrap Processing Machines, FUJI CAR MANUFACTURING has rich
experiences,and the products that has accumulated various know-how are receiving
high evaluations from customers.Having rigid structure for severe circumstances, with introducing
the unique mechanism and efficient maintenance performance, our products surely contribute to the customer's demands.
Scrap Shear

Standard model of shearing machines having compression function.

Charged scrap iron is compressed by powerful stamping slide and deep pushing slide located in feeding box. Then, by compressing the charged material with stamping slide, compressed material is securely cut off. "Scrap Shear" compresses and cuts large amount of iron scrap.
Fuji Mount Shear

Compact model of shearing machines with wide shearing area and suitable shear angle.

The main body consisted of wide and deep feeding-box and side-pressing-slide processes scrap iron. Mount shape shearing blades enable to stabilize the main body , protect the slide-gib surface as well as quick processing.
Scrap Baler

Compacting machine for iron scrap. Compression capability, cycle time, and compacting size can be selected.

Scrap Baler processes to compress scrap iron material.Our original mechanism and structure allow to compress smoothly and safely and in small space.
Pre-Shredder

Preliminary shredding machine for coarse crushing.

Our unique dual-axis + pre-swing mechanism support smooth processing of A-press. Pre-Shredder enables to increase operating rate of shredder and to extend the life of shredder as well as to effect to prevent explosion accident.
Shredder

We have successfully introduced the Shredder several blast furnace facility

Large-sized shredding machines are also available. We have a series of capability from 500HP to 4,500HP which include countermeasure for explosion, nonferrous metal recovery lines, and ASR sorting lines.

Copyright © 2016 Fuji Car Manufacturing Co., Ltd. All Rights Reserved.