Top Page

Products

Waste Treatment Equipments & Systems

Sorting machine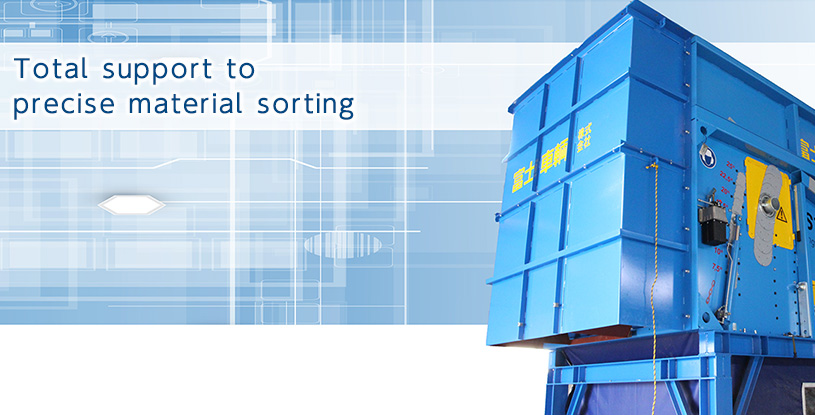 We can correspond to various materials and purposes, for example
RPF production equipment, Sorting production for mixed metal , Crushing drying system,
Recycling facility for incombustible bulky waste , etc .
The Recycle Test Center (in the headquarters)

Ballistic Separator

Reliability based on the experience in the European markets. Sorting machine made by STADLER Co. Ltd.

Using the screening paddle, mixed waste can be sorted into different fractions , flat and light materials :2D, rolling and heavy materials :3D and fines. These machines featuring angle adjustment mechanism and power saving, have been used more than 750 around the world. Trial test in our Recycle Test Center is available.
Optical Sorter

high-precision sorting machine with advanced technique, made by TOMRA Co. Ltd.

A combination of optical sensor and pressurized air, mixed waste can be separated precisely. More than 4,000 machines have been used around the world. The sensors of near infrared, visible rays and metal are equipped on our Sorter in Recycle Test Center. Trial test is also available.
Metal Recovering Electrostatic Separator

Suitable for recovering metal particle and removing foreign substance

Sorting the conductor and insulator is suitable for this separator which is joint development with Hitachi Zosen Corporation. It can be Recovering mixed metal and removing foreign metal from mixed waste.
Shrreding and sorting machine for wasted home electric appliances

Recycling system for wasted home electric appliances

Small home electric appliances can be shredded until hand-sorting is available in shape. Particle size can be adjusted in this system, so recovering the valuables is available effectively.
Paper proccesing machine

The paper separated gypsum can be utilized

The paper separated gypsum can be utilized This system can sort out the gypsum and paper from the wasted gypsum board precisely. Our Paper Processing Machine provides the function of separating the gypsum from gypsum board so that recycling paper can be utilized.

Copyright © 2016 Fuji Car Manufacturing Co., Ltd. All Rights Reserved.